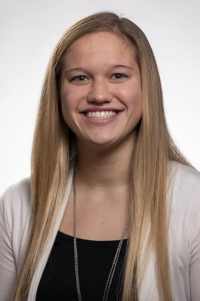 Talia Hayes was hired as the second UW-River Falls head women's lacrosse coach in program history in November of 2021.
Hayes has experience as an assistant coach at the high school level, spending time as the Eastview High School (Apple Valley, Minn.) girls lacrosse varsity assistant coach since 2017. In addition, she spent time coaching the successful Minnesota Loons Select girls' lacrosse team, winning multiple tournaments. She also had a role with the Mounds View (MN) Youth Lacrosse organization.
A three-year team captain and Midwest Women's Lacrosse All-Conference honoree at the University of Northwestern in St. Paul, Minn., Hayes is the Northwestern women's lacrosse all-time leading scorer with 258 points off 179 goals and 79 assists. She was also the league's Rookie of the Year and was a three-time Team MVP.
Also a member of the Northwestern women's basketball team, she helped lead the Eagles to an NCCAA National Championship appearance as a team captain. In 2020, she was named an NCAA Woman of the Year nominee and earned the Upper Midwest Athletic Conference Scholar-Athlete Leadership Award.
She graduated with a bachelor's degree in Biology and master's degree in Organizational Leadership from Northwestern.